Nanomakers
an innovative company in nanotechnology
Créée en janvier 2010, Nanomakers conçoit, produit et commercialise des nanopoudres de carbure de silicium (NMSiC) et de silicium pure ou enrobé de carbone (NMSi / NMSiΩC). Ces nanopoudres de haute qualité permettent d'accroître de façon décisive les performances mécaniques, thermiques et chimiques de nombreux matériaux utilisés dans différents secteurs industriels (semiconducteurs, batteries Lithium-ion, aérospatial, automobile, etc.…).
From fundamental research
to the creation of an industrial company
Issue d'une recherche sur les nanopoudres et leur production menée depuis 20 ans au CEA, et dont Nanomakers est l'exclusif dépositaire, l'entreprise bénéficie d'une avance de 5 années sur toute autre technologie concurrente au niveau mondial.
Cet enracinement historique au CEA, ainsi que l'exploitation de l'ensemble des brevets et du savoir-faire, a permis à Nanomakers, dès sa création, de disposer d'un portefeuille produit opérationnel et commercialisable.
Ce portefeuille couvre l'intégralité de la chaîne de valeur industrielle et comprend une gamme de nanopoudres « sur mesure », un procédé stabilisé de production ainsi qu'une offre de conteneurs pour la mise en forme et le transport des poudres vers les clients.

Nanomakers is offering solutions to all industrials wishing to improve existing materials and develop new ones. The company distributes its products worldwide by distinguishing 3 main business areas: Europe, Asia and Americas.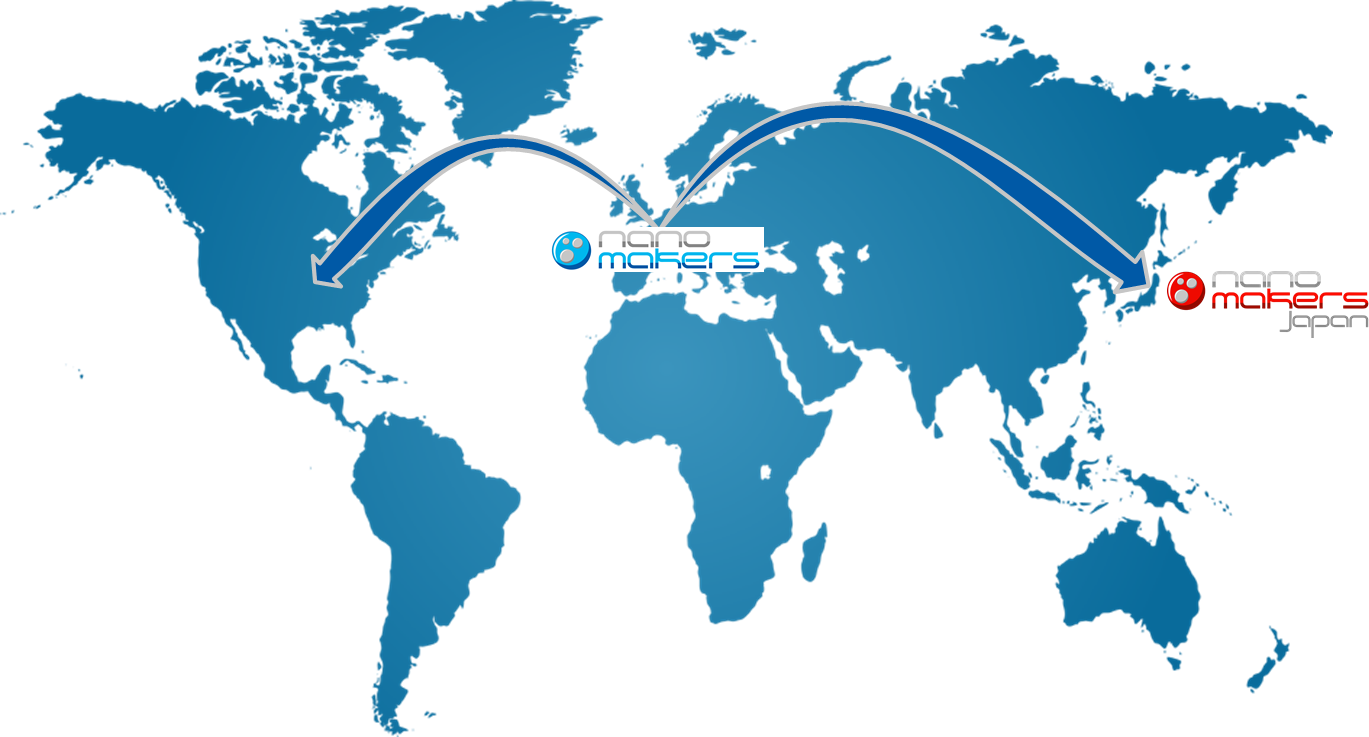 Europe
Nanomakers relies on its knowledge of European industrial base to speak with potential customers directly.
Asia
NANOMAKERS JAPAN (subsidiary of Nanomakers) relies on a strong network of relationships with actors in advanced technologies for ensuring the marketing and business development of Nanomakers products, directly with major key accounts in the material industry or final users.
Americas
NANOMAKERS addresses directly to industrials located in Americas area.
Distribution agents
NANOMAKERS relies also on its distribution agents around the world to get close relationship with its local customers and also to bring necessary technical and commercial assistances.